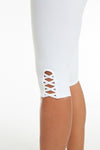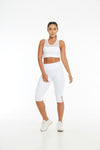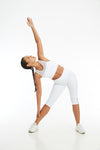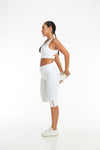 Luna ¾ leggings
Tax included. Shipping calculated at checkout.
Our luna ¾ leggings are a surefire way to take your gym sesh to the next level! With their 3/4 length and strappy detail on the side, they're just the ticket if you're looking to add a lil' extra oomph to your look. And because they're made from recycled materials, you can feel good you're doing your part to make the world a better place. Get your yoga on! 

Product Details
Style: 3/4 leggings 
Details: Strappy details on the side
Fabric: Compression
Product Disclaimer: 
Our Luna leggings are double layered but are not squat proof.  We suggest wearing white underwear while wearing them. 
Model wears a size M
Bust 36.5"(92cm)
Waist 29.5" (75cm)
Hips 39" (99cm)